Colored Eyeliners
When it comes to "colored" eyeliners, you need to know what suits you, depending on your eye color.  You don't want to over do it, as it may make you look really odd (to say the least)! I personally use either a Black, Brown or Blue eyeliner. I have green eyes, so it is very rare that I will put on Green eyeliner, as it makes me look like I have received a punch in my eyes! Not very flattering – right?
So here I am going to suggest to you one of the best blue eyeliners on the market…yes you guessed it…it's L'Oreal again, well when  you are the best, that's all there is!
The other recommendations here I have not tried personally, but I am including them here for your convenience should you be interested in varying colors for varying effects.
This eyeliner glides on smoothly & its intensity is brilliant  with its first silk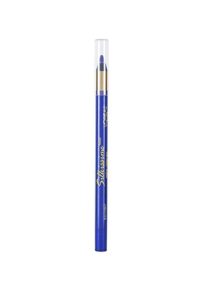 inspired liquid eye pencil!  It lasts up to 16 hours of wear and is smudge-resistant which is perfect for a long day at work.
This is a mechanical pencil, so again you don't need to take out your pencil sharpener – what a relief!… =)
Of course it is Ophthalmologist tested, so its really great for sensitive eyes and contact lens wearer!  At $7.12 again…you can't go wrong with this one!
OK, so as I said, I have not tried these, but I HAVE researched the issue!  By far these liners are a good choice, as far as colored eyeliners are concerned.
You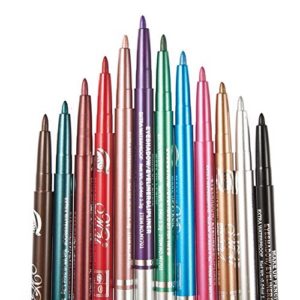 need to remember in order to produce various colors a varying amount of titanium dioxides, wax and iron oxides are used and that makes the color more or less soft.
These liners are highly water resistance when you let them dry properly, and are anti-allergy, they are easy to hold and control.  There is a 100% SATISFACTION GUARANTEED-RISK FREE. If you are unsatisfied completely with your purchase, they will be  glad to replace it or issue you a full refund. 
The reviews are mainly great, and that makes me more confident in recommending these to you. Plus for the price of $10.59 (for orders over $25) that is a great deal!
Enjoy Your Beauty…
Orion
AFFILIATE DISCLOSURE:
"When you buy something from this website, I may receive an affiliate commission. These are my opinions and are not representative of the companies that create these products. My reviews are based on my personal own experience and research. I never recommend poor quality products, or create false reviews to make sales. It is my intention to explain products so you can make an informed decisions on which ones suit your needs best."