Fact: Using a skin toner daily is highly recommended.
But is it really that important? What would be the benefits of Skin toner? If at
all? or is it just another ploy to get us to spend some more money on another product we don't really need?
Well ladies, the truth of the matter is, yes, there are benefits of using skin toner, and  I am going to list them here for you.
1) Skin toner removes remaining oils and grime from skin, after having cleansed your face thoroughly.
2) Skin toner – as the name suggests – tones the skin
3) Skin toner prepares the pores to receive your moisturizer cream at maximum capacity – so you don't need to apply as much cream as you would otherwise.
So you see, there are important and economical benefits to skin toners, and it would be good keeping those in mind.
Though it may seem trivial, it is note worthy to understand that knowing how to  apply your skin toner in the correct way is just as important as how to apply your skin moisturizer.
With a cotton swab, make sure to moisten it sufficiently, (you don't want to stretch or "scratch" your skin with semi-dry cotton fibers) pat your face gently all around in the same way/directions you apply your skin moisturizer – look at the example picture below. Make sure to wipe your neck line as well as per picture sample, (which is slightly different than how to apply your skin moisturizer).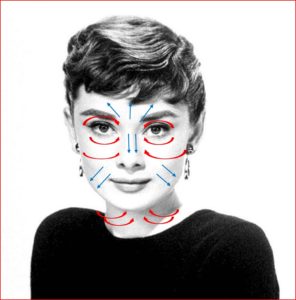 *Important note: Do not apply skin toner on or around your eyes should your skin toner have alcohol in it.  It is better to avoid toners with alcohol as they dry out your skin.
Once applied, you will need to wait a minute or so to let it dry. Sometimes, when the humidity is high and I feel the toner is not drying "fast" enough to my liking, I use a hand fan….
Now dry, you can apply your moisturizing cream and if you have eye cream then that too.
That's it! That's all there is to it!
One last note I would like to share with you on the importance of using a skin toner, you will find that your skin absorbs your moisturizer cream more effectively, rendering your skin with a clean glow and fresh look. Isn't that it what we aim for from the very beginning! 🙂
I hope you enjoyed this post and if you have any questions  or want to leave your own personal opinion, leave a comment below."
Enjoy your beauty…
Orion