Looking for the Best Anti Aging Serums?
And you can't see the "trees from the forest" as there are so many "best" Anti Aging Serums on the market, how do you know which one to choose?
Which one will be best for your face? And do they really work?   So many questions to be answered! 
Here at Beauty Over Fifty we give you the Reviews of the selected best – nothing less!  So here is another great – if not, the best – Vitamin C Serum that does wonders for your face!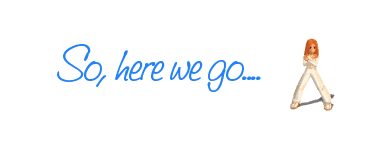 The OZNaturals Vitamin C Serum uses one of the most researched and proven ingredients in modern skin care to create the ultimate anti-wrinkle serum.
As it has been shown for the past few years in many studies, Vitamin C increases collagen production, a significant factor for wrinkle reduction!
Now what is wonderful about OZ Naturals vitamin C serum is that it combines the antioxidant power of vitamin C with the hydration and moisturizing abilities of hyaluronic acid, to give the skin a rejuvenated youthful glow making it one of the Best Anti Aging Serums on the market.
OZ vitamin C serum is sometimes (mistakenly) called also as Dr. OZ Vitamin C serum, but in fact, has nothing to do with Dr. Oz! Its great attribute is that it offers 20%, vitamin C, which is the maximum potency that our skin can absorb daily.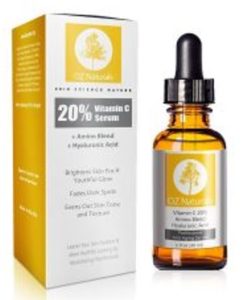 For What Skin Type Is It?
OZ's serum may be better for those with dry or patchy skin because OZ's formula includes hyaluronic acid for deep hydration.
We'll touch upon this again later.
Additionally, if we were to rank products based on best value, OZ Naturals' c serum is a close contender to the top spot due to its excellent effectiveness, in comparison to its outstanding affordability.
So its no wonder that it ranks No. 8 on my list of Best Anti Aging Serums and on Amazon Best Sellers list!
In fact, the effects of this product are often compared to some more expensive high-end options—but for a fraction of the price!
If you are price-conscious and are looking for the Best Anti Aging Serums then this vitamin C serum is the one for your face to give you beautiful, healthy, and younger looking skin, OZ Naturals offers an unbeatable value.
With its excellent formula, this product can naturally lift and replenish the skin, leaving you with a beautiful complexion that looks and feels younger.
And, if you want to learn more about how you can achieve this personally, then keep reading our OZ Naturals vitamin C serum review. I am sure that you'll like it!
How Does it Work?
Based on our OZ Naturals review, vitamin C is one of the most powerful anti-aging supplements because of its ability to boost collagen production in our body.
Collagen is a protein that makes up about 75% of our skin, and its production gradually decreases with age.
By applying this topical elixir, the product can influence the enzymes responsible for collagen production to encourage its synthesis and preservation.
In addition to collagen production, OZ serum vitamin C also helps reverse damages imposed by free radicals due to its high levels of antioxidants.
What are Free Radicals?
Free radicals are uncharged particles in our skin that are caused by various environmental conditions such as alcohol, cigarette smoke, pollution and the sun.
These particles cause damage to our body's cells because they have an unmatched electron which they "steal" from our skin's collagen protein.
When this happens, the damage results in brittle or discolored skin, wrinkles, and sagging.
The antioxidants found in Vitamin C Facial Serum, prevent these damages (caused by free radicals) as they are electron lenders—and so enable us to protect our skin
Last but not least, the Hyaluronic Acid found in OZ Vitamin C Face Serum rejuvenates and moisturizes your skin, giving it a plump and fresh look.
Hyaluronic acid is a highly pursued ingredient because of its ability to regulate how much moisture your skin needs.
All skin types can benefit from this ingredient, as it helps those with dry skin to eliminate any patchiness or flakiness, and it provides those with combination to oily skin with a naturally dewy and plump look without giving any impression of oiliness.
The Key Ingredients:
OZ Naturals prides itself on offering a high concentration of organic ingredients in an efforts to create the best natural vitamin C serum. Check out what they put in their mixture:
·       Vitamin C 20: This formula consists of 20% vitamin C—a potency that provides maximum anti-aging effects. Pure vitamin C serum boosts the production of collagen in the body, to minimize wrinkles and sagging, improve complexion, and leave you with younger looking skin. In addition, the high the concentration of antioxidants found in vitamin C helps combat the effects of free radicals and environmental stressors that give your skin an aged appearance.
·       Hyaluronic Acid: As mentioned before, this ingredient works to hydrate and moisturize the skin for a plump and rejuvenated look. Hyaluronic Acid is an extremely absorbent ingredient (one gram has a carrying capacity of up to 6 liters of water) that can regulate how much moisture your skin needs.
·       Vitamin E: Vitamin E is another rich antioxidant source that is also lipid soluble—protecting you from the effects of free radicals which often damage the lipid membrane of your cells.
·       Rose Hips: Rose hips are the "berry-like" fruit that is left behind after a rose dies. This part of the flower is supercharged with Vitamin C, and in fact, it has about 20 times more vitamin c than an orange!
·       Green Tea: There have been many studies of the beneficial effects of adding green tea to c serum. Green tea is a rich source of antioxidants and can also protect you from damages caused by the sun.
·       Astaxanthin: A red pigment, which naturally colors lobsters, salmon, and shrimps, this ingredient is a strong antioxidant that helps protect the skin's cells, and guards against damages caused by the Sun's UV rays. It has also been shown to improve the body's immune system and has been known to prevent cancer, Alzheimer's disease, Parkinson's disease, strokes, and high cholesterol.
Product Application
In order to get the best results in the fastest way, it would be best to follow the following instructions:
Apply to clean and dry skin twice daily
Once in the morning and once in the evening
Allow the product to absorb into the skin
Only then follow up with a moisturizer
How Effective Is It?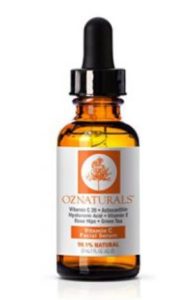 OZ Naturals Vitamin C Serum has been ranked as one of the Best Anti Aging Serums (many positive reviews) by users, due to its fast acting and comfortable formula.
It has been very beneficial for those with dry skin, as it significantly benefits from the hydrating power of the hyaluronic acid present in this formula, which gives the skin a soft and moisturized finish.
On the other hand, this product is also very well suited for those with oily skin, as the hyaluronic acid also works to clean out your pores to prevent the onset of acne and other skin conditions.
In addition to this OZ Naturals Vitamin C Serum's hydrating ingredients, OZ's formula also gives the highest concentration of vitamin C that the skin can absorb.
So for visible anti-aging effects that significantly reduce wrinkles and fine lines in a matter of a few weeks, this is your product of choice!
Where Can I Buy this Product? 
To receive the best price on OZ Naturals vitamin C serum for face, you can purchase this product right here. One of the greatest features of this popular serum is its affordability in comparison to its top-ranking results.
For this reason, when you shop OZ Naturals products through the Beauty Over Fifty site you can rest assured that you are receiving an unmatched value for one of the most powerful Best Anti Aging serums & other products currently on the market.

My Conclusion
Overall, it can be safely said that OZ Naturals' vitamin C serum with hyaluronic acid offers an excellent value for your money when comparing affordability to effectiveness.
For a fraction of the price of other comparable c serums, OZNaturals offers a powerful anti-aging and hydrating skincare product with the highest concentration of vitamin C.
This serum will give you a naturally beautiful and radiating glow by helping your body synthesize collagen and reverse the effects of free radicals.
If you are looking for the best vitamin C and hyaluronic acid serum (but you are on a budget) I highly recommend this product.
Try it yourself to see how OZ Natural vitamin C serum gives the face a youthful glow after each application!
Click Here For More Wonderful Skin Care Products On Amazon
If you too would like to know how to build a website like mine click here

Founder & CEO of Beauty Over Fifty