Best Skin Moisturizers
When it comes to the Best Skin Moisturizers, the range is as wide as the type of people that are on this planet! It seems that every day there is a "new formula" out there in the market, and you are left to figure out what would suit your best!
Some people firmly believe that the more a skin care moisturizer costs, the better it is, while others believe that "simple is best" and stick to the old school moisturizers that have been around "umpteen" years!
I personally opt to diversify and go according to my budget and my seasonal need, in summer I need something light, in winter something richer. Also in daytime, I will opt for UV based moisturizers while at night a rich nourishing cream that will let my skin rest well while I sleep.
So here are some of my recommendations for both day and night moisturizers.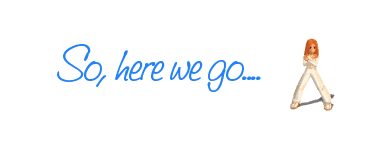 ---
Product: Clarins SPF daily lotion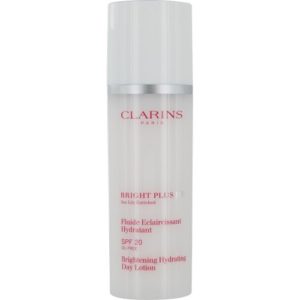 Cheapest place to buy: Amazon
Skin Type: Normal to Dry
Size: 50ml
My Rating: 8.1 out of 10
I personally love Clarins products, they are reasonably priced for a high-class product with the best of ingredients, and I love the nice aroma there is to their creams, makes you feel clean & elegant!
Bright Plus HP Brightening Hydrating Day Lotion SPF 20
Clarins Bright Plus is a smooth fluid with a fine, melting texture that provides your skin with a wonderful sensation of well-being, leaving it radiant and matte, all day long, and is perfect for summer days when you don't want a heavy cream on your face. It has SPF 20 which is gentle and not too heavy on "sunblock" which I personally don't like – as I feel it clogs my pores too much. Of course, this is a personal choice.
About the product
Brightens and evens the complexion
Moisturizes and softens skin, leaving it velvety-smooth
Protects against UV rays and harmful environmental factors
Ingredients
Enriched with a combination of Sea Lily and Alchemilla extracts to provide optimal protection against dark spots. A combination of raspberry extract, biotin, and highly stable Vitamin C that reduces melanin. UVA and UVB filters to protect against harmful sun rays. White tea extract to protect against free radicals.
Did you know that Sea lily goes through a clean extraction process, the Sea lily extract comes from flowers specially grown for Clarins in Brittany (France). It is obtained using a clean extraction method, without chemical solvents, by maceration of the aerial parts of the sea lily in water.
---
Clarins Multi-active Night Youth Recovery Cream Normal To Combination Skin
Product: Clarins night cream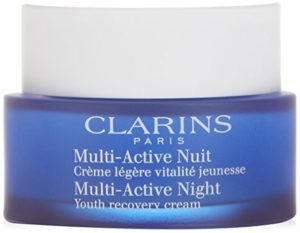 Cheapest place to buy: Amazon
Skin Type: Normal to combination
Size: 50ml
My Rating: 8.5 out of 10
As I mentioned before it is the fragrance that drew me to Clarins products at first, but also my skin kept me there. I tried other "good quality" brands and kept on coming back to Clarins. I found that the most convenient, reliable and economical place to purchase Clarins products are in Amazon.
Yes, you pay a premium for a product like this, but it actually works! After trying so many other products, Clarins Multi-active Night is the one that finally did it for me.
As per the Clarins site, the encapsulated Teasel extract delivers targeted revitalizing and anti-aging action to where your skin needs it most. Revitalizing Organic California Poppy extract helps absorb the visible effects of late nights and interrupted sleep-so skin looks smooth, toned and rested by morning.
Special Ingredients that make this product so special
Organic TeaselBeneath a prickly exterior, Teasel holds a wealth of revitalizing virtues. Also known as Venus' Basin, the rainwater that collects within its bowl of leaves was used as a cosmetic in ancient times. Helps minimize the look of fine lines and wrinkles caused by a stressful lifestyle.
Myrothamnus Flabellifolius
This hearty plant from the mountains of southern Africa has the ability to survive severe water deprivation. Fights the effects of daytime stress to help visibly minimize fine lines and boost radiance.
Organic California PoppyEvery morning, the California poppy opens up its spectacular golden flowers, only to close each evening to revitalize itself. Helps absorb the visible harmful effects of late nights and interrupted sleep—so skin looks smooth, toned and rested by morning.
Directions
As per any night cream moisturizer, after having applied your facial toner, apply a small amount gently on your face with inward gesture around the eyes and cheeks – as shown in my post.
Click here for more wonderful skin care products at the Skin Care Shop!

Founder of Beauty-Over-Fifty.com