Having beautiful eyes can come naturally, but understanding what is the beauty of  Eyeliners can be revealed to you how to achieve the best results ever!
Mostly, we find that we need to enhance our eyes in order to make them the "key" feature of our face. This is where eyeliners come into the picture to give us the perfect shape.
Of course, you can have great and dramatic effects with eyeshadows, shimmers, high-lighters, eyebrow pencils and eyelash extensions, but it is the eyeliners that literally shape our eyes.
If you want to know what is the beauty of Eyeliners all you have to do is look back into history where the beauty of eyeliners has been well documented since ancient times. Ancient Egyptians, Samarians, Native Indians and many other ancient civilizations used eyeliners for beauty enhancement as well as medicinal cures and religious ceremonies. Did you know that in Ancient Egypt black kohl eyeliners were used as a medicinal remedy to prevent eye infections which were prevalent in those times due to the flooding of the Nile.  The lead-based eyeliners promoted the production of nitric oxide in the skin which helped increase the immune systems against the disease!
As you can see eyeliners have many stories to tell and as our eyes are the "windows to our souls" so can eyeliners be their "window frames" !
Types of Eyeliners
In general, there are three types of eyeliners which come in all kinds of shapes and forms. There is a type for everyone and for types of eyes.
You have the good old black kohl eyeliner, colored eyeliners, liquid gels and creams, thin brush liners, sponge liners, eyeliner gels.
How do you choose out of all these, the one that would be right for you? Well, that will depend on the shape of your eyes your skin type and the effect you are after.
For day to day use, you want to keep it simple and effective with minimum fuss – because really, who has time now to stand in front of the mirror 15 minutes to get the line right… when kids are waiting for breakfast and it is your turn to carpool this morning?
Also, you may not be one to use make up every day, or maybe you are, it is best to use and apply eyeliners when your eyes are lightly covered with some form of make-up.  Personally, I tend to just apply some light cream foundation on my eyelids and around the eyes before applying my eyeliner, on hot summer days when I don't want to feel the heaviness of makeup on my face. But I know that my eyeliner will show best when I have some foundation on, and it will keep it there throughout the day.


Ideally, a black Kohl pencil eyeliner will do the daily trick just fine. A light line on the eye pupil from end to end will highlight your eye, and a light line on the inner lower part of the eye will open up your eye tremendously, for narrow set eyes.  Depending on the shape of your eye you either will fill ¼, ½  or a full line from end to end, or none at all.
The chart above gives you an idea as to the various ways to apply eyeliners depending on your eye shape.
A basic rule of thumb, if you have wide eyes you can confidently apply eyeliner on the lower part of your eye, to emphasize and dramatize your eyes.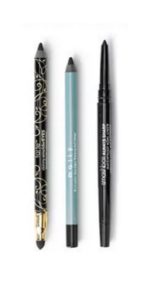 If you have small narrow eyes, avoid putting eyeliner on the lower part and concentrate to put a good steady line on the eyelid.
Kohl pencils make the application of the line very steady and convenient. It is a clean line and all you need to do to get the best result is to remember to keep it well sharpened.
Liquid eyeliners have a great dramatic effect and are great for a thick strong upper lid line. You can pull the line, up and diagonally to the sides in order to create a great opening effect – if you remember Amy Winehouse eyeliner trademark!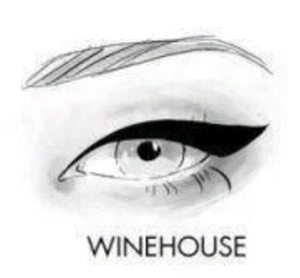 The only drawback with liquid eyeliners is that you must have a good steady hand and know to handle the actual handle.  Some come in shape of a pencil, which make the application easy and smooth, some come in a cap form which can be challenging if you are not accustomed to it.
Also, the brush may be thick, or thin and you need to know to choose what works best for you.
I personally go for the thinner brush, short handle liquid eyeliners as they give you more room for "mishaps".
These are the pro's tools. Eyeliner Gels and creams come in small tubs and are applied with a thin paintbrush.  Their application, when done professionally give a most dramatic, clean-cut effect and you have more maneuverability with Eyeliner Gels – creams. Drawback…fiddly if you are in a hurry, so it's not for your everyday use and requires a good steady hand. It is important to clean well the brush after each use, so not to get it clogged up and then the application will me smudgy!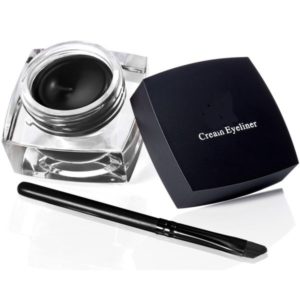 Choosing what would suit you best would depend on your lifestyle and the occasion.
As a general guideline, I would advise to start off with not too expensive eyeliners, try each type to see how you handle them and how you feel with each.  Then once you have found the one or the ones that most suit you then you can "invest" in the better quality, higher price tagged eyeliners.
A fun & useful site I found to give you more details on how to apply eyeliners is listed below for your reference and enjoyment.

I hope you enjoyed this post and if you have any questions or want to leave your own personal opinion, please leave a comment below.
Click Here For More Wonderful Skin Care Products at the Skin Care Shop!