A little known "huge" Secret about Copper You Didn't Know! It has GREAT Anti-Aging Properties We All Need! Read On, You Can't-Miss Out on This Information!
In recent years, Copper in Skin Care has become a trendy ingredient. It has great anti-aging attributes which make it a new, yet ancient,  front-runner in the race for what is the next "fad" in anti-aging cosmetics.
It is a fact that every few years a new gimmick is found, new research reveals, and old ancient remedies are brought "up to date" to the 21st century cosmetic world. A few years back it was Vitamin E, Avocado oil, Q10, then Retinol, now Hyaluronic acid & vitamin C, and Copper in skin care is now making its way up the ladder of the cosmetic top 10 charts!
So what is the big "hit" about Copper? It's not anything really new. Ancient Egyptians (yes Cleopatra too) used copper to sterilize wounds and drinking water, and the Aztecs gargled with copper to treat sore throats. Now fast-forward a couple of thousands of years and copper is making a major resurgence, with creams, serums, and even fabrics popping up with promising anti-aging results.
A Toronto-based cosmetic chemist, Stephen Alain Ko, who has studied copper explained that in today's cosmetic industry, creams are formulated with a natural form of copper called "copper tripeptide-1, it is also called copper peptide GHK-Cu.
This copper complex has been found in human plasma, but also it is found in our urine and saliva. This type of peptide seeps into the skin easily and so many new products use these types of naturally occurring peptides or copper complexes.
What are Peptides?
Here is a short "biology" lesson for you, it will help you understand a little more about the mysteries of our body, specifically our skin!
Peptides are chains of amino acids that are the building blocks of proteins in the skin. … When they are in a short chain of amino acids, they are able to penetrate the top layer of our skin and send signals to our cells to let them know how to function. One important protein in our skin is collagen
How & Why is Copper Used in Cosmetics
In the past, some forms of copper were used in less concentrated quantities, as they were sometimes irritating and unstable. Nowadays, copper peptides rarely irritate the skin, which makes them a very popular ingredient when combined with other cosmeceuticals (cosmetic ingredients said to have medical properties).
Copper peptides are small molecules that are important for various body functions and this can be "translated" to anti-aging perks, as copper peptides may reduce inflammation and increase wound healing speed, and this, in turn, can help the skin look and feel younger and fresher. These facts were brought by Murad Alam, M.D., professor of dermatology at Northwestern University's Feinberg School of Medicine and a dermatologist at Northwestern Memorial Hospital.
Wait just a minute…
Before jumping the gun!….and stock up, it's worth noting that there's no conclusive evidence of its efficacy yet. Studies are often commissioned by the manufacturers or done on a small scale, without peer review. But "there have been a few human studies on copper tripeptide-1 on skin aging, and most of them have found positive effects," Dr. Alam says. Specifically, a handful of studies showed that copper may make skin more dense and firm, he says.
Dr. Alam recommends trying out a copper peptide for one to three months without changing other parts of your beauty routine. Keeping the other products to a minimum can better help you track skin results to gauge whether "you like what you see," he says.
So Where Do You Look For it?
There are many products that list copper as part of their ingredients, from makeup to facial creams and serums to hair products. In this article, I would like to share with you several of the facial creams that are available on the market.
Hyaluronic Acid Tri–Molecules GHK–Cu Moisturizing Serum.  Added    with the precious blue copper ingredient to complement collagen for    moisturizing skin and slowing down the aging process. Improves  elimination of dryness & provides full moisturizing. Supplements  maintains and locks water all in one!
HERA Mineral Multi BB Mild Blemish Balm SPF40 / PA++ is infused with natural mineral powder and ion mineral complex (magnesium, zinc, calcium, copper) to revitalize, and promote radiant and smooth skin. Evens and brightens skin tone while providing brilliant shine through light reflection. Protects skin from environmental damages and strengthens skin's natural barrier. Non-cosmedogenic.
Bioderma Sebium Purifing Foaming Gel, is a mild rich foam, pH 5.5 only. It can limit the secretion and clean the face thoroughly with Zinc Gluconate and Copper Sulfate. The patented natural complex can also raise the skin's tolerance, Therefore, it is great for oily and mixed skin types.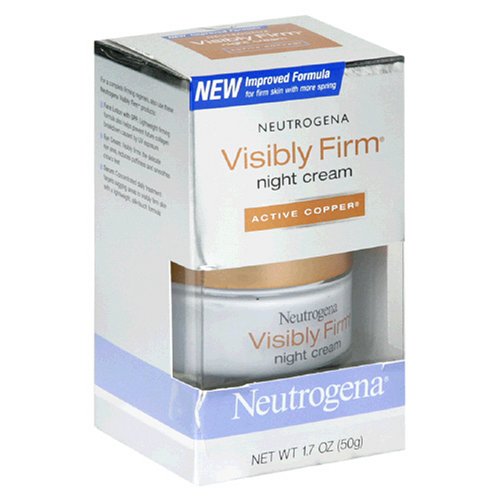 Improved Formula for firm skin with more spring. Neutrogena Visibly Firm Night Cream is the anti-aging, moisturizing cream for visibly firmer, more resilient skin showing fewer lines and wrinkles. And now, it's formulated to perform better than ever. Puts the spring back in your skin. This exclusive Active Copper formula delivers copper deep within skin's surface to visibly restore its natural support and elasticity. You'll see firmer, younger looking skin with more spring. Longer-lasting moisturization, plus a silky new feel. In just one use, you'll experience superior moisturization, fast absorption and a beautiful new feel on skin. In 2 Weeks Clinically Proven To: Improve skin's firmness and elasticity; Reduce appearance of fine lines & wrinkles; Improve clarity and texture; Soften and smooth skin. Visibly Firm Night Cream is: Dermatologist tested; Allergy tested; Non-greasy; Dye-free; For all skin types. Made in U.S.A.
My Conclusion
If you are looking for a gentle way to get your anti-aging regime going, then Copper may have the answer that you are looking for, as the copper peptides are so low on irritant properties and work so well on the skin's pores.
I would definitely recommend using a copper based serum as it has been proven over  many years to be effective for beauty and health!
Click Here For More Wonderful Skin Care Products at the Skin Care Shop!

Founder of Beauty-Over-Fifty.com