Is this the New Age of Anti-Aging? Or is there something fishy about this?
In the never-ending chase to find the fountain of youth, many cosmetic companies have tried to "crack the nut" to aging – and some have gone out to some extremes.
For many women pursuing youth can be a costly affair and sometimes prove elusive and complicated. Some are willing to pay quite a fortune for the best skin care products.
Many of these costly products ARE good and do deliver on their promise – but they are not the only ones!
It is not surprising then, that scientists and cosmetic companies invest a lot of time and money to find "the one" elusive "Youth Elixir".
This post will discuss one of these ingredients combination – Caviar & Gold.
When you dig a little further into the matter you will find that opinions are split on whether Caviar oil really can help rejuvenate our skin and give us the solution to eternal youth.
La Prairie Unassuming Beginnings
La Prairie's humble yet exotic start on the shores of Lake Geneva was founded in 1931 by Dr. Paul Niehans. His eccentric approach was called "live cell therapy" and involved collecting cells from cows and sheep embryos and injecting them directly into the backsides of patients to apparently stimulate rejuvenation of their cells.  In doing so Niehans claimed to be able to reduce cancer rates and grow back damaged organs (!) – Quite lofty claims that never were actually proven nor were they ever recognized by traditional orthodox medicine.
All the more, there were several rare cases of patients dying from the resulting treatment.  Nonetheless, his name and reputation grew and some of his earliest customers included actress Marlene Dietrich, Winston Churchill, several Popes (would you believe they were concerned over their youth look?!) and later Margaret Thatcher.
In 1978 the clinic launched its skincare range and took a decent part of the cosmetic market remarkably fast. In 1987 it released its iconic caviar collection.
"Skin Caviar Luxe Cream" – What The Power of Caviar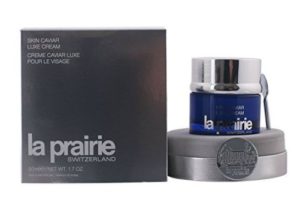 La Prairie's 'skin caviar luxe cream' is an anti-aging cream filled with the goodness of the deep.  With some pretty exotic ingredients.  The caviar extract is isolated in a lab, where scientists remove minuscule amounts of oil or cellular material from the fish eggs.
Please don't confuse it with the caviar we eat, which usually comes from mature sturgeon and salmon, but caviar for skincare can come from a much wider range of fish – and can be from unfertilized eggs or the fluid released when they hatch.
La Prairie claims that the Caviar extract helps to stimulate collagen production and so enables the skin to maintain its firmness and elasticity.
Also mixed into the La Prairie range are ginseng root complex, which comes from an Asian herb and is said to encourage cell regeneration; horsetail extract, another herb dating back over 270 million years, said to fortify the skin's connective tissues and decrease fine lines; and algae extract, to keep the skin hydrated.
Several of La Prairie's products contain very small quantities of precious metals, such as gold and platinum, which La Prairie claims gives your face a 'youthful radiance' — and not just from the shock of the price tag!
At $500 plus a tub, you could say this is one of the more expensive anti-aging products on the market. So would it be worth your while investing in it?
It's Cheaper Than Botox!
At this price tag, one of the last thing you can argue is that yes, it is cheaper than Botox!
And it's certainly less invasive for sure.
Botox is a chemical which is injected into the skin to partially paralyze the fine muscles and inhibits their movement thus relieving the skin from wrinkling.
Yes, with Botox you see results immediately and these can last from three to six months.
With face creams, the results are much slower — and more subtle, as topical facial treatments are much more about 'prevention' than 'solution'.
There's also the cost — between $300 to $1,200 per session, depending on how many sections you are wanting to get done. So yes, Botox is much more expensive.
Another difference is the areas they work on: Botox specifically targets fine lines, while La Prairie caviar cream works more generally over the whole face, but doesn't penetrate as deeply.
The special ingredients in the La Prairie moisturizers inhibit water loss from the skin's surface and plump its appearance, temporarily reducing wrinkles.
Botox has been proven to lessen wrinkles by targeting over-active muscles in key trouble regions, such as the frown area. So to compare the two is like equating chalk to cheese.
What Some "Known" People Say
Numerous celebrities are included in the "La Prairie" circle, film star Angelina Jolie, Mad Men actress Christina Hendricks, model Helena Christensen and Victoria Beckham, who uses the $410 Cellular Radiance Night Cream every night before bed. Husband David has admitted to stealing some from her too!
Another male follower is Rolling Stone Sir Mick Jagger, 74, who's reportedly a big fan of the La Prairie facials, while the Geneva clinic has also been visited by singers such as Cher, Diana Ross, and the late David Bowie.
It is worthwhile noting that the clinic has hosted more publicity-shy royals and sports stars over the years – with their identities zealously protected by the discreet La Prairie staff.
The Possibility of Side-Effects
As this luxurious cream contains Alpha Hydroxy Acid exfoliation it can have an irritant effect on your skin and you could find your skin itchy and a little dry after using it for the first time.
It would be advisable to use it separately from any Hyaluronic Acid serums you may be using, as the combination of the Alpha Hydroxy Acid exfoliation and Hyaluronic Acid cause irritation.
Disclaimer
La Prairie's creams also contain parabens, a preservative chemical which prevents the growth of bacteria, but which has also been shown to mimic estrogen hormone in the body's cells
Still Want Caviar & Gold, But Are On Budget?
Try these following Caviar & Gold based skin care products that can be just as effective!
Price: $14.19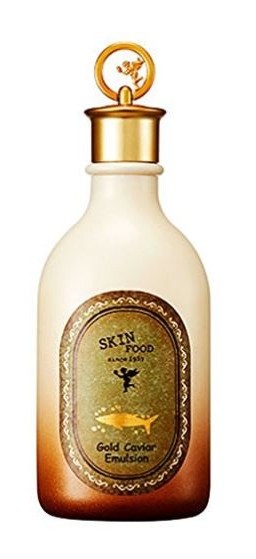 A wrinkle care emulsion that leaves the skin feeling moist n full of resilience with the Russian caviar n gold ingredients.
It contains Russian caviar and gold ingredients that provide moisture, nutrition, and resilience to the skin
It is best to be used after the application of toner or serum to apply in the direction of the skin texture.
Price: $68.90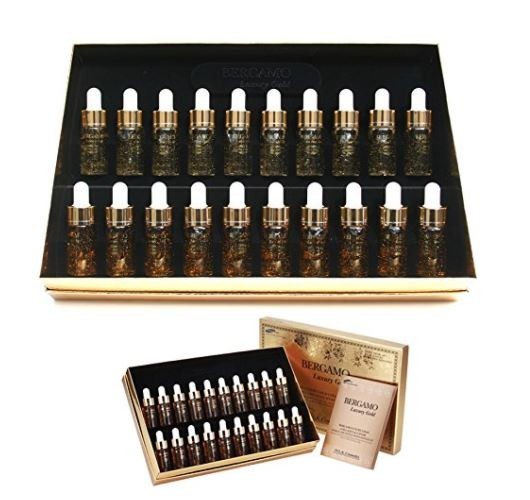 These Luxury Gold Ampoule  (13ml×10ea) will keep your skin moist with plenty of Gold & Tissue Cultured Ginseng which are great advantageous roots extract.
This repair ampoule supplies plenty of nutrition to your skin and makes it smoother & brighter.
It will see your skin's flexibility improve with Plenty of Vitamins in Caviar Extract and repairs your damaged skin quickly and smoothly.
This nutrient-rich mask blends a brightening hydroxy-acid complex. It answers the special needs of your blemish-prone adult skin by clearing it without over drying.
This skincare solution was designed to help promote visibly calmer, smoother, younger-looking skin.
Price: $23.00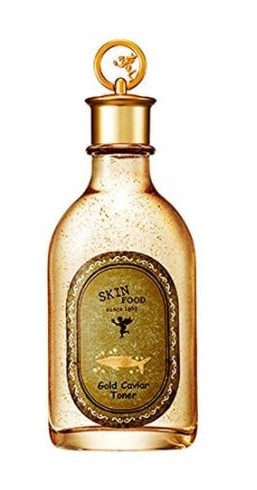 A toner that softens the skin texture with gold particles that can be seen with the naked eye.
Contains Russian caviar that provides moisture, nutrition, and resilience to the skin.
It does a really great job firming and moisturizing the skin. The texture is a lot thicker than a lot of liquid toners yet it is very easily absorbed.
Price: $19.80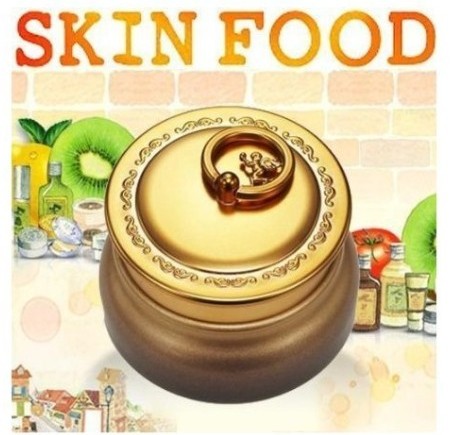 Cosmeceutical for wrinkle care, this is a collagen-enriched cream with Russian caviar extract, pure gold particles, and collagen extract that fill up loose, deflated skin for a firmer, tighter complexion.
This is a wrinkle care cream that leaves the skin full of resilience and moisture without dryness and is excellent in its moisturizing effects.
My Conclusion
As you can see, you don't have to spend a fortune to gain access to Caviar& Gold extract in your skin care regiment.
Korean cosmetics have been growing in popularity slowly but surely, gaining more and greater reputation as excellent skin care products at very reasonable prices.
But for those of you who would like to go with known reputation and feel safer in this then La Prairie would be a definite purchase to make – as it comes with decades of very successful reputed positive experience. But again, this is for you to choose.
[signoff0
Founder of Beauty Over Fifty