Best Facial Cleansers
There are several Best Facial Cleansers on the market that can be very effective in helping you in your daily routing. I personally, have used over the years several products, from facial scrubs to foaming cleansers to cleansing milks and mild soap bars and specialty facial soap bars too.
In this review I will endeavor to  give you a variety of options to chose from, as each one of us has her likes and dislikes and of course each one has her own skin type which will determine what would suit her best.
---
Cleansing Foams
CeraVe Foaming Facial Cleanser
Product: Foaming cleanser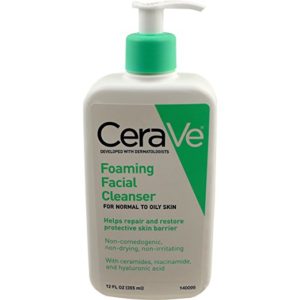 Cheapest place to buy: Amazon
Skin Type: Dry to sensitive
Size: 355ml
My Rating: 7.9 out of 10
One  of the Healthy Skin Care cleansing products I would recommend for your daily cleansing routine is the CeraVe Foaming facial cleanser. This product will
CeraVe Foaming Facial Cleanser, 12 Ounce
gently remove dirt, excess oil and dead skin cell so to give you a clean, fresh face.  This is a non-irritating cleansing facial cleanser which is formulated to maintain your skin's moisture well balanced, eliminating shiny oily area without stripping the skin.  This facial cleanser replenishes and maintains hyaluronic acid & ceramides levels, which are necessary for your skin to have a healthy barrier and gives you a comfortable feeling without any tightness or dryness.
Ingredients
Purified Water, Cocamidopropyl Hydroxysultaine, Glycerin, Sodium Lauroyl Sarcosinate, PEG-150 Pentaerythrityl Tetrastearate and PEG-6 Caprylic/Capric Glycerides, Niacinamide, Propylene Glycol, Sodium Methyl Cocoyl Taurate, Ceramide 3, Ceramide 6-II, Ceramide 1, Hyaluronic Acid, Cholesterol, Sodium Chloride, Phytosphingosine, Citric Acid, Edetate Disodium, Dihydrate, Sodium Lauroyl/Lactylate, Methylparaben, Propylparaben, Carbomer, Xanthan Gum.
Directions
Cleanse face morning and evening with CeraVe® Foaming Facial Cleanser
Wet skin with lukewarm water
Massage CeraVe Foaming Facial Cleanser into skin in a gentle, circular motion
Rinse
Gently pat skin dry
---
Product: All around Facial cleanser & eye makeup remover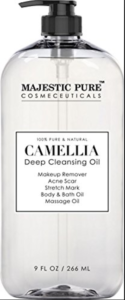 Cheapest place to buy: Amazon
Skin Type: Oily & combination
Size: 250ml
My Rating: 8.2 out of 10
Another facial cleanser that is very gentle as it has no harmful chemicals, no alcohol and no added color is the Majestic Pure Camellia Deep Cleansing Oil. Though it has the word "oil" in it, don't be alarmed!  This wonderful product has several cleansing properties which covers a wider spectrum than you'd give a
Majestic Pure Camellia Deep Cleansing Oil
regular facial cleanser!
For the natural conscious person among us this deep cleansing oil has not been tested on animals, it is vegan, gluten free and is an excellent source of vitamins and moisturizer.
It is a great  all around, all natural makeup remover, eye makeup remover; natural bath body and massage oil.  With regular use  it may reduce the appearance of acne scars and stretch marks. So all in all you have everything to gain and nothing to lose …except for what you want to lose =)
**Important: Although this is also an eye makeup remover, you should be careful to not get it into your eyes. You need to keep your eyelids closed and follow the directions. If contact does occur, rinse thoroughly with water. Keep out of reach of children.
Ingredients
Capric Triglycerides (Fractionated Coconut Oil), Vitis vinifera (Grape) Seed Oil, Camellia oleifera (Camellia) Seed Oil, Simmondsia chinensis (Jojoba) Seed Oil, Tocopherol (Vit. E), All-Natural Fragrance.
Directions
Make up Remover: Dispense into dry hands and massage onto dry face (keeping eyelids closed). Use a dry cotton pad or warm wet washcloth to gently rub all over the face. Rinse thoroughly with warm water.
Eye Makeup Remover: Dispense into a cotton pad then wipe the pad gently on closed eyelids. Rinse thoroughly with warm water
---
Product: Deep Pore Charcoal Cleanser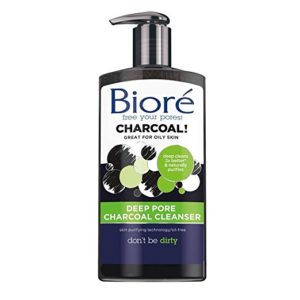 Cheapest place to buy: Amazon
Skin Type: Oily Skin
Size: 250ml
My Rating: 8.6 out of 10
About the Product
Don't let dirt take over your pores. Biore deep cleansing products target deep-down impurities to defend against daily buildup – like dirt, oil and make-up – for a truly deep clean

Charcoal, a common ingredient found in nature, is known for its ability to draw out impurities and trap them

Free your pores!

Naturally purifies & deep cleans

Draws out and traps 2x more dirt and impurities than a basic cleanser for deeply cleaned skin
Ingredients
Water, Glycerin, Sodium Laureth Sulfate, Cocamidopropyl Betaine, Sorbitol, Laureth-4 Carboxylic Acid, Ethylhexylglycerin, Acrylates/C10-30 Alkyl Acrylate Crosspolymer, Fragrance, Sodium Hydroxide, Menthol, Methylparaben, Polyouaternium-39, Propylparaben, Charcoal Powder, Disodium EDTA, Mannitol, Iron Oxides, Cellulose, Caprylic/Capric Triglyceride, Methylisothiazolinone, Hydroxypropyl Methylcellulose.
Directions
For optimal results use daily. Wet face. Pump cleanser into hands and work into a foam. Massage over entire face. Rinse thoroughly.
Click here for more wonderful skin care products at the Skin Care Shop!

Founder of Beauty-Over-Fifty.com