Burt Bees Lip Balm 100% Natural Moisturizing Lip Balm, Ultra Conditioning with Kokum Butter 
Product: Natural lip balm
Cheapest place to buy: Amazon
Skin Type: Normal to sensitive
Size: 2 pack
My Rating: 9 out of 10
This is an excellent product for chapped and dried lips.  Burt's Bees products have no Petroleum in them, so they DON'T dry the lips any further. It is infused with rich Kokum, Shea and Cocoa Butter to moisturize and renew your lips. Also, it is a soothing Moisturizing Lip Balm that moisturizes, nourishes and hydrates dry lips.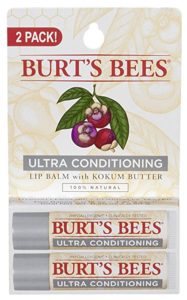 It is a natural lip balm made with 100% natural ingredients and that means there are no parabens, phthalates, petrolatum or SLS!  Great news!!
Small Tip: I have found that when I have a cold and the skin around my nose is red from all the tissue rubbing, putting lip balm around the nose heals the skin and soothes it greatly!
I hope you enjoyed this review and found it informative. If you have any questions about the products or want to leave your own personal review, you are invited leave a comment below.
Enjoy Your Beauty…
Orion
AFFILIATE DISCLOSURE:
"When you buy something from this website, I may receive an affiliate commission. These are my opinions and are not representative of the companies that create these products. My reviews are based on my personal own experience and research. I never recommend poor quality products or create false reviews to make sales. It is my intention to explain products so you can make an informed decisions on which ones suit your needs best."