Purebiology have really have outdone themselves with this No. 3 Best  Anti Aging Serum, together with 30% Vitamin C in it and Hyaluronic Acid, this product gives a super boost to your skin all in one go!
So Who Are Purebiology?
Finding something on this company has been a little bit of a mystery and in my personal opinion it is possible that Purebiology operates under a bigger cosmetical company – I still have to find out about it.
However, it doesn't mean that their products are none the less excellent, and that is possibly why their serum ranks No.3 as the best anti aging serum in Amazon!
Made of the best ingredients this high vitamin C concentrated serum is packed with all the necessary "stuff" you'll need to rejuvenate your skin and give it a younger look.
About This Product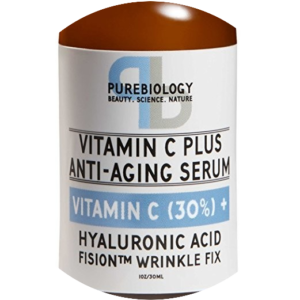 It is a HIGHLY CONCENTRATED & EFFECTIVE  serum that was carefully formulated to contain the highest concentration of Vitamin C possible while retaining stability and purity.
At 30% concentration, this formula is one of the most potent & effective Vitamin C serum available on the market.
THE POWER OF "C" – Through its powerful antioxidant properties, Vitamin C is known to protect and hydrate our skin while correcting a variety of imperfections, including wrinkles, inflammation, discoloration, acne/wound scars and damage from UV & free radicals.
It is also known to brighten the appearance of wrinkles and reduce under eye circles & puffiness.
ANTI AGING ADDITIONS – The inclusion of hyaluronic acid & Fision™ Wrinkle Fix provide significant enhancements in this formula's ability to reduce wrinkles, fine lines and age spots, aiding it to become one of the best anti aging serum out there.
THE SCIENCE OF FISION™ WRINKLE FIX – This natural, revolutionary complex binds together unique plant peptides to promote enhancements in cellular vitality and vast improvements in the skin's natural ability to produce hyaluronic acid after application.
This greatly enhances HA's well-known ability to fill in wrinkles.
FISION™ LAB TESTS & CLINICAL TRIALS – In lab tests, Fision™ Wrinkle FixFision™ Wrinkle Fix has even outperformed Vitamin C (the gold-standard for anti-aging) in cellular viability and hyaluronic acid synthesis. Fision™ showed a 25x increase in HA synthesis and a 13% increase in cellular vitality vs. Vitamin C.
Fision™ also produced 50% more hyaluronic acid synthesis than Glycolic Acid, a known HA booster.
In a 56-day clinical trial, participants realized an average decrease of 20% in wrinkle depth when using cream infused with 2% Fision vs. placebo.
Notable reductions in age spots were also observed.
Ingredients
This list of ingredients is not listed by the company anywhere on the net, but having purchased this product I was able to write up the ingredients that were printed on the bottle – so here is the full list:
Water, propylene glycol, jojoba oil, hydrolysis wheat protein, witch hazel,glycerin, vitamin e, vitamin c powder, aloe Vera box, citric acid, phnoxyethanol, water, carbonated, triethanolamine, hydrolyzed rice protein, hydrolyzed pea protein, glycine, praline, hydrolyzed sodium hyaluronate.
Why Should You Buy This Serum
Well, apart from the great reviews that this product is getting all over the internet (you can check for yourself) this best anti-aging serum product actually works!
Yes, vitamin C does wonders for your skin, and together with your daily skincare moisturizer, you will reap the benefits of this great serum very quickly.
You need to remember that as with any serum, you need to give it time to work. No serum will give you overnight "rejunevation" that is reserved for plastic surgery and fantasy land!
But if you are patient and disciplined to use it every day, day and night, then you will see within 3-4 months great improvements in your overall skin condition.
Fine lines will start to disappear and your skin will be plumper and more elastic and glow!
Getting To Know More About Serums
To know more about this best anti aging serum and other similarly awesome products you are invited to visit my lates post on the 20 best anti aging serums for 2018.
There are many great products out there on the market, knowing which one to choose can be tricky.
So always take into account your skin type and your lifestyle when considering a serum, as you may need a stronger or softer serum, or a combination of products to assist  your skin's recovery.
My Conclusion
Selecting a serum is all very individual, and you should take into account what you are already using at home.
What type of skincare moisturizer do you use? Do you use a skin toner? How do you cleans your face? With soap or a skincare cleanser? How often do you use masks? And what type of masks do you use? Cause you can't directly apply the serum on skin that has been treated with a mask…and so on and so forth!
With so much to consider, I recommend you to review some of the other serums listed in my Best Sellers list, you are sure to find the right one for you!
Click Here For More Wonderful Skin Care Products On Amazon
If you too would like to know how to build a website like mine click here

Founder & CEO of Beauty Over Fifty