Caring for our lips is one of those essential routines we must do if we are to maintain our facial health and beauty. So here in this Lip reView I will present to you the best lip care products available & the best lip balm for dry lips on the market today!
Lips represent our sensuality and our character in more ways than we usually tend to think. It is not by hazard that we have such expression as "loose-lipped" or "tight lips" or "my lips are sealed"! Think about it, what does it say about the person? And when you meet a person, after the eyes, isn't it the lips you look at next? I am sure you are not looking at the cheekbones or their ears!
So taking care of your lips is as essential, especially if you need sensitive skin care for your lips and for your physical comfort & health, but also for your emotional inner self.
Here are some of the products that I recommend, some are best sellers and some are little-known secrets that need to be experienced to really appreciate their beauty!

Eau Thermale Avène – (little-known secret)
Product: Rich & Rejuvenating Lip Balm for Sensitive Lips
Cheapest place to buy: Amazon
Skin Type: All Types
Size: One lipstick size
My Rating: 9.5 out of 10
Now, this is one product I cannot recommend enough!  It gives your lips the perfect care while repairing any damage
This Hydrating lip balm is really great for daily use and protects, softens and restores suppleness to your lips. The great thing about this product is that it has been Clinically proven to nourish and protect lips, and it feels absolutely great on the lips, not lumpy, not greasy, but leaves you with a nice moist
feeling!
Avène is a French company which has been rooted in dermatology and hydrotherapy, it has over 270 years of expertise in caring for sensitive skin and is a very trusted cosmetic company, especially among the sensitive skin people. Its core ingredient, Avène Thermal Spring Water, soothes and helps minimize skin sensitivity, and that is its secret!
This is a nutritious and restoring sheer comfort lip balm which offers long-lasting moisture. It will make your lips look smooth and full with just the right amount moisture.
What is great about it, is that it gives 8 hours of hydration that will leave your lips soft, supple and calm.  It nourishes, soothes and protects so it gives you perfectly plumped lips.
---
Burt's Bees 100% Natural Moisturizing Lip Balm – 
(Best Seller)
Product: Burt's Bees 100% Natural Moisturizing Lip Balm
Cheapest place to buy: Amazon
Skin Type: All Types
Size: One lipstick size
My Rating: 9.2 out of 10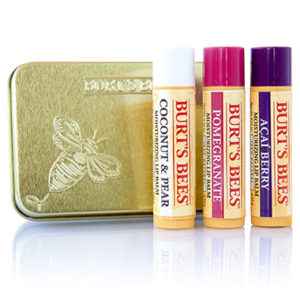 This is one of the more popular lip balms on the market and is an Amazon bestseller product – imagine how many people buy this product out of the thousands of lip products that are available! So what's so great about it?
Burt's Bees Moisturizing Lip Balm nourishes and makes your lips feel luxurious. Infused with power-packed Beeswax to condition skin and antioxidant Vitamin E to richly moisturize and soften lips, this lip balm nourishes dry lips while keeping them revitalized and hydrated.
With a matte finish and moisturizing balm texture, this tube of soothing lip balm glides on smoothly with a hint of Peppermint Oil which leaves your lips with a refreshing tingle. Conveniently tuck this tube into a pocket or purse, so that you can keep natural, nurturing lip care handy. This 100% natural beauty product is free of parabens, phthalates, petrolatum, and SLS and will beautify and revitalize your lips. Use this natural Burts Bees Moisturizing Lip Balm to make lips feel their best.
About the product
Four 0.15 ounce tubes of Burt's Bees Moisturizing Lip Balm, Beeswax, with a hint Peppermint Oil

Infused with Beeswax, a natural skin conditioner, and Vitamins E to moisturize

Soothing Moisturizing Lip Balm to moisturize, nourish and hydrate dry lips

Natural lip balm made with 100% natural ingredients

No parabens, phthalates, petrolatum or SLS
---
USDA Organic Lip Balm by Sky Organics – 
(Best Seller)
Product: USDA Organic Lip Balm by Sky Organics
Cheapest place to buy: Amazon
Skin Type: All Types
Size: One lipstick size
My Rating: 8.2 out of 10
6 Pack Assorted Flavors – With Beeswax, Coconut Oil, Vitamin E. Best Lip Plumper Chapstick for Dry Lips- For Adults and Kids Lip Repair. Made In USA 
With 6 delicious flavors, these moisturizing lip balms are your ideal companion to keep soft and moisturized lips!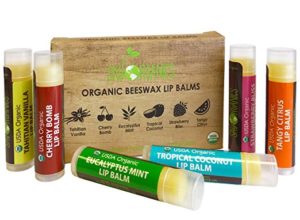 This is a great product for the whole family, to protect your lips against the cold winter days or the hot dry summer days! As it is organically based, it gives you the best of all that Mother Nature can provide you with one little purse size/pencil case lipstick size. So while may be taking care of your family's lip health you can add this to your "lip care" list!
Here are the details of this product – not much more needs to be said! Enjoy =)
100% PURE ORGANIC LIP BALM PACK: Organic Sunflower Oil, Organic Beeswax, Organic Coconut Oil, Vitamin E, Organic Rosemary Extract, Organic Calendula and Natural Organic Flavors. Lip Plumper

NON-TOXIC, NON-GMO, GLUTEN FREE, NO chemicals, NO petroleum or petroleum derivatives, NO fillers and No soy! 100% USDA Certified Organic Lip Moisturizer. Nourishing Lip Butter Perfect for Toddlers, Kids, Dry Lips, Chapped Lips, Cracked Lips, Lipstick base, Gift Sets. Best Organic Lip Care safe for all ages!


CRUELTY-FREE AND RECYCLABLE PACKAGING: Our products are never tested on animals and our packaging is completely recyclable.

MONEY BACK SATISFACTION GUARANTEE: All of our products at Sky Organics come with a Hassle Free Money-Back Satisfaction Guarantee so you can buy our Lip Balm Pack with confidence
Click here for more wonderful skin care products at the Skin Care Shop!

Founder of Beauty-Over-Fifty.com
---
AFFILIATE DISCLOSURE:
"When you buy something from this website, I may receive an affiliate commission. These are my opinions and are not representative of the companies that create these products. My reviews are based on my personal own experience and research. I never recommend poor quality products, or create false reviews to make sales. It is my intention to explain products so you can make an informed decisions on which ones suit your needs best."