Usually, when you think of waterproof anything for your eyes, you'd first think of mascara! But having the best waterproof eyeliner is no less important to maintain a beautiful eye makeup finish throughout the day!
Finding the right and the best waterproof eyeliner for your eyes is not such a mystery when you know what you are looking for! Question is, do you know what you are looking for?
Well, in this review you will receive only the best of the best, recommendations that I have personally tried & used and know for sure how they work.

So for waterproof eyeliners, the choice is really very wide and finding the right one for you can be trial and error. Most of the eyeliners covered in my review are waterproof, so here I want to cover one eyeliner that stands out among the rest, simply because it is so easy to apply on with its pencil form.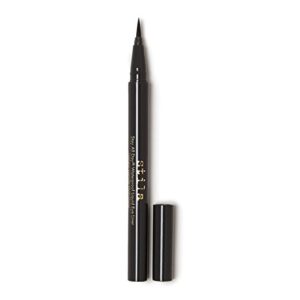 Personally, I find the pencil form – come felt pen form, eyeliners are the most comfortable ones for me as I feel I can confidently "draw" the line exactly how I want it on my eyelids. stila's Waterproof Liquid Eye Liner is smooth and dense in color formation and so goes on just perfectly.
Yes, again, it is rather in the pricey range, but hey you can't argue with quality! $22.00 worth every penny!

When Maybelline goes ON it stays ON!! That's why maybe I am so much of a fan of this product, and there are many women who absolutely LOVE it!

This is a good quality product as far as smoothness and full cover goes. It doesn't dry out too fast so you should be able to enjoy it right through to the end. And the price is totally agreeable to any budget at $6.37!

This is a High-tech Japanese formula that is long-wearing, water-resistant and smudge-resistant! Excellent for those long "beachy" summer days!

It has the Ultra-Precise Brush-Tip Applicator which is right up there with the best of Innovative designs to make it easy to use as an eye lining tool for effortless delivery.
It is Hypoallergenic; Fragrance free; Paraben free; Dermatologist approved; Safe for sensitive eyes and contact lens wearers – so you know you are using a good quality product that is just perfect for your eyes!
Click here for more wonderful skin care products at the Skin Care Shop!

Founder of Beauty-Over-Fifty.com
AFFILIATE DISCLOSURE:
"When you buy something from this website, I may receive an affiliate commission. These are my opinions and are not representative of the companies that create these products. My reviews are based on my personal own experience and research. I never recommend poor quality products, or create false reviews to make sales. It is my intention to explain products so you can make an informed decisions on which ones suit your needs best."