With liquid eyeliners the variety of good eyeliners increases, I don't know why, but the leaders in this products are numerous and I personally like several of them!  So I am going to give you here a varied mix few =)
This is an "intense" liquid eyeliner in black color for all day wear. You put it on – it stays on! That's it! It has a uniquely designed applicator which allows you to create delicately thin or dramatically bold lines with precision, which gives your all the versatility you need for any look you like. 

Of course its ophthalmologist-tested so it is suitable for sensitive eyes and contact lens wearers and for also it is fragrance-free. For a great eyeliner at $7.49 you can have a good quality product you won't regret buying.
This liquid eye liner is a new "GENERATION". The company is  HeyBeauty and its liquid eyeliner has developed a new technology for the gel that creates no more hard work and frustration for getting either thin, thick or winged lines!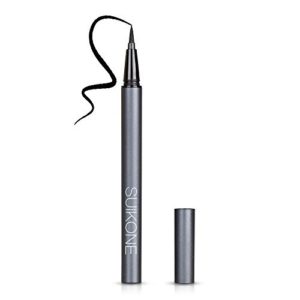 It is a vegan and natural eyeliner with a cruelty-free formula, this eyeliner pen features special nature essences touch to enhance the eyes in a most gentle and harmless way. Its unique combination of bamboo-charcoal, hyaluronic acid, wax esters molecules will exceedingly intensify and moist your eyes with the glossy blackest finish in two seconds! It is gentle to sensitive eyes and contact lens wearers.
It is incredibly waterproof and long-lasting, great for a whole day wearing. No more unintended smokey eyes from now on.
Because it is Vegan and made of those natural formula the gel will form a flawless black layer onto your lids, and so won't penetrate through the skin and leave precarious melanin in pores like other brands do, which also makes removing it off like a breeze. At $10.99  it is a good buy!
Ok, I had to include this eyeliner here, cause it is all the rave about a great eyeliner! It just DOES the job with great precision and is smudge proof and waterproof…so here is the low down on this beautiful product!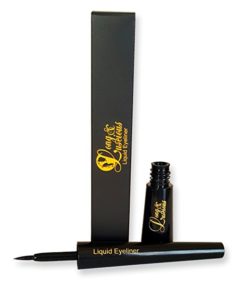 While it does come off with water and make-up remover, it doesn't smear and smudge like others. It is  used & endorsed by LOS ANGELES CELEBRITY STYLISTS & MAKE-UP ARTISTS and there is a full satisfaction 30 day money back guarantee…so really you've got nothing to loose with the great eyeliner. It retails at $14.99 but there are deals on Amazon where you can get it for cheaper.
Enjoy Your Beauty…
Orion
AFFILIATE DISCLOSURE:
"When you buy something from this website, I may receive an affiliate commission. These are my opinions and are not representative of the companies that create these products. My reviews are based on my personal own experience and research. I never recommend poor quality products, or create false reviews to make sales. It is my intention to explain products so you can make an informed decisions on which ones suit your needs best."