Good Morning World!
Isn't it great to wake up all refreshed from a good night sleep and then "groggily" walk to the bathroom only to see a bewildered face in the mirror! Oh! Gosh! Not again! Saggy eyes, sleep lines from the pillow case on your cheeks and you wonder …. what's so wonderful about this morning again? That's when you need some good Healthy Skin Care Tips!
So I would like to give your here,  a 5-minute routine full of Healthy Skin Care Tips that you can adopt quickly and get the best results for your skin to carry on throughout the day!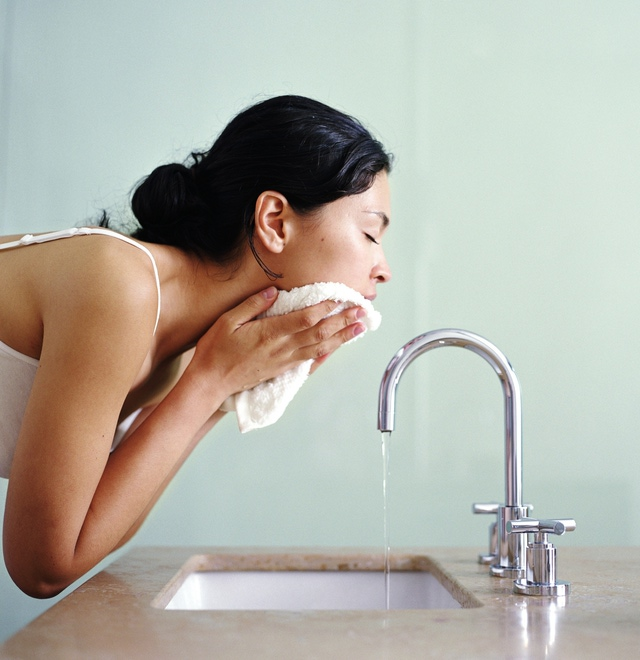 Firstly, Healthy Skin-Care "law" demands that you always wash your face in warm water – not HOT – as it dries out the skin.
If you are a morning shower person, and yes ladies, not everyone is a morning shower person! Then part of this skin-care routine can be done in the shower to start with.
So, wash your face with some mild soap. It can be a natural organic soap, or a regular bar of soap so long as it is mild. I personally use regular soap and pay attention to my T-zone, as it is still the oiliest part of my face (even at 50!). After having washed, rinsed and dried my face I use a non-alcohol based facial toner with a light cotton swab and pat my face and neck with it gently.
Of course, some of you might prefer to use facial cleansers, cream and or oils, each to her own preference. I have tried them all over the years and I have found myself returning to the mild bar of soap each time…
Then apply your daytime moisturizer evenly all over, preferably with some level of UV protection. Let it dry before starting to apply the rest of your makeup routine, that is the most important!
Good Evening World!
So you've come to the end of the day, after a hectic day at the office, traffic, maybe some drinks after work with some friends, or a family dinner and here you are again, in front of the mirror before your shower. You remove your eye make up gently with a cotton swab and the appropriate eye make-up remover, I personally use a petroleum-based cream or gel, that does the trick really good, and I don't worry too much about the "greasy" feeling it leaves as I wash my face in the shower with the mild soap I used in the morning.
If you have heavy makeup on, I would suggest to soap your face twice, rinsing well between each time. Again, after drying well, wipe your face gently with a facial toner (non-alcohol), let it dry a little before applying your night cream moisturizer that should be richer than your morning "daytime" moisturizer and without any UV protection to it! (There is no sun at night! )
Et Voila! This routine is very basic and I am sure that many of you know it from "teenagehood". Remember, simple is best! Your face doesn't need too much on a daily basis. Good cleaning & moisturizing skin-care routines are enough for it. Of course, once in a while it will want & need your TLC of a facial or some other skin-care treatment, but that's for another time.
I hope you enjoyed this post and if you have any questions about skin care routines or want to leave your own personal opinion, leave a comment below.
Click Here For More Wonderful Skin Care Products at the Skin Care Shop!